How We Roll at the Brentre House
A few weeks ago, I started rinsing out the empties and placing them on top of the bookcases...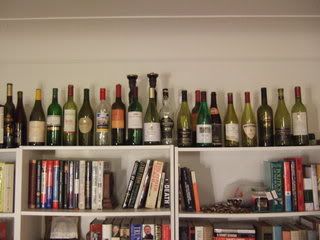 Corkscrews are lovely (and necessary) gadgets. We aren't above an occasional bottle with a twist cap, but generally our bottles have corks, or something plastic and foamy resembling a cork.

For awhile I used a cork puller instead of a corkscrew. Sara gave me my first one. I am not sure what happened to it. It was a great way to keep the cork intact. Even for the novice it usually kept the bits of cork out of the wine.

After that, I generally used to use a winged corkscrew. This one, in fact: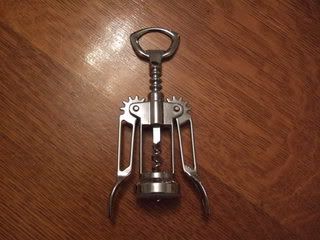 It also has a bottle opener built right in -- which is convenient because when I am opening wine, I am often opening bottles of beer as well. Of course, this one offers nothing in terms of a foil cutter, and I used to keep a knife or a pair of scissors handy for that task.

We also have this opener on hand: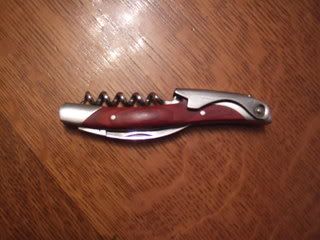 The waiter's style opener is perfect for keeping in your pocket, should you need to open wine, um, out. Gina is actually better at using this opener than I am, as she should be, since she used to wait tables and serve wine. Presumably, its slim size is why waitstaff carry them. It works nicely, though it takes a little practice and skill. I don't like using it in front of Gina, because I don't begin to have her skills with it.


When we (me, Gina, Kat, and cousin Ray) were at Dad and Marcy's for Thanksgiving, I saw the wine-opener they had. It clamps onto the top of the bottle, drives the corkscrew into the cork with a lever, and that same lever pulls the cork right out. Once pulled, the same lever pushes the cork right off the cork screw. The whole movement of (a) removing the cork from the bottle and then (b) removing the cork from the corkscrew, takes about 1.5 to 2 seconds. Brilliant! That makes opening a bottle of wine about as easy as opening a bottle of Miller High Life.

So, I wanted one.

And after Thanksgiving, when I ordered the Blackfield DVD (one for me, one from Brent) from Amazon, I saw this knock off opener for $9.99 -- and with free shipping on my order, I took a chance.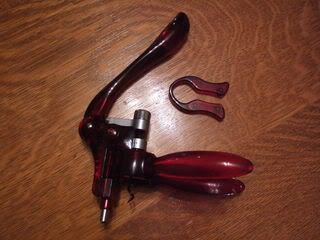 Serviceable, but not as nice as the one at my Dad's. It is a little clumsy, the handles are a little jiggly on it, and it feels cheap. It does pull corks just fine, but it feels like it could wear out or break fairly quickly.


Christmas to the rescue!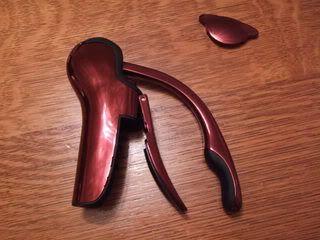 The Delaware Pfisters gave me this lovely Brookstone wine opener. Elegant, easy, efficient. I could open every bottle of wine in the house in under a minute total with this one -- and it has a foil cutter! Very nice, indeed. Truth be told, I actually looked at this very opener at the Brookstone at South Park mall while I was Christmas shopping, and I very nearly bought it on the spot!


Also for Christmas, Kat got me the much touted Houdini opener: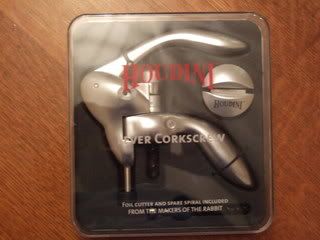 You may have seen the ads for this opener over the holidays -- it looks great! And I expect it will work very well. I confess, I haven't tried it yet. But I will! On Christmas afternoon, when I went under the tree to fetch a new corkscrew, I found the Brookstone opener first. That one will stay in the kitchen while the Houdini opener will stay downstairs under the bar. A place for everything! And really, who wants to be on one floor and have to negotiate an entire flight of stairs to open a bottle of wine? It is much better to have separate corkscrews for separate floors -- not only as a matter of convenience, but as a matter of, um, safety (especially as the night goes on).

So we are now fully equipped to open all sorts of wine bottles with all sorts of openers, with ease and with style!

As a matter of contrast, here is the lone can-opener in the Brentre house: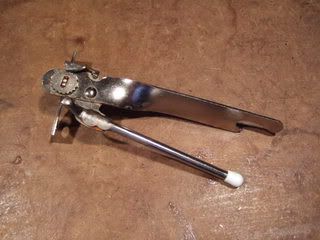 You can see where our priorities lie, and I will not apologize for them. Cheers!

Labels: Brentre, Brookstone, corkscrew, Houdini, waiter's, Wine, wine opener, wing