Magnify God
I was riding home the other day and I encountered yet another religiously themed vanity plate. Every time I see a plate like this, I recall how GODS DED has been and remains available. It seems like I see increasingly more religiously themed license plates.

So here is the plate I saw this time, near University Circle: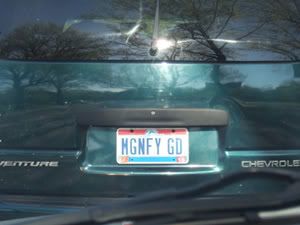 "Magnify God." Magnify. Really. I thought, wow, is God so small? I thought, your God is a protozoan God, one which could be killed with a bleach wipe or a toilet cleanser. A microbial God that lives in your intestines would be one way to ensure that God is always with you. My E. Coli God is an angry God!

It turns out a Google search of "Magnify God" yields plenty of references that have nothing to do with God being a single-celled organism. A lot of it is in reference to speaking in tongues. Perhaps the driver in front of me at University Circle was having such a conversation, thus explaining why she was driving so slowly.

It look as if the last laugh was on me though, for on that same commute home I encountered... The Dark One!




But he left me alone. I guess The Dark One doesn't sting unless you swat at him.

Labels: vanity plates