In Honor of the Departed Jerry Falwell
Lots of media outlets write obituaries years in advance of the actual deaths of public figures so they can dust them off and run them as soon as the old bastards shuffle off this mortal coil.

The Audient Files is not that sophisticated. All I have for you is...

... the parody ad that ran in Hustler magazine, for which Falwell sued Hustler for defamation.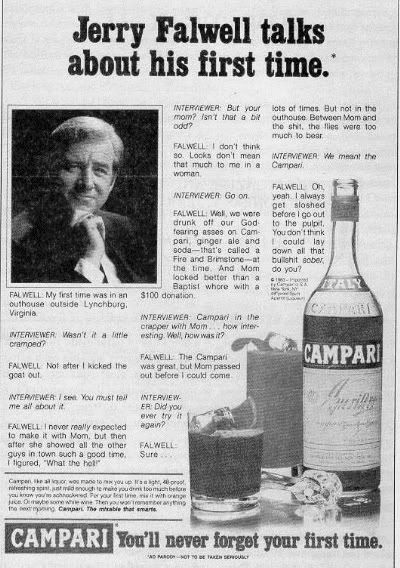 Wikipedia has the backstory here, if you aren't familiar with it.

The good news is, the Supreme Court ruled in favor of free speech, meaning they ruled in favor of Hustler. Hustler 1, Falwall 0.

As for Falwell, he lost at the Supreme Court, and I have a hunch he's in for a surprise. Besides the fact that Larry Flynt outlived him.

For more fine Falwell reading, here is a great list of quotes.

Labels: bastards